Trained by Sophia de Vries and Anthony Bruck, both of whom studied with Alfred Adler, Dr. Stein is the leading exponent of Classical Adlerian Psychology today. With nearly fourty years of experience as a depth psychotherapist and training analyst, he brings Adler's original theory and philosophy to life in the practice of psychotherapy with rare insight and artistry. His unique contributions to Adlerian practice include an articulation of twelve stages of treatment, a creative adaptation of the Socratic method, the use of guided and eidetic imagery, a process for providing the missing developmental experience, and an integration of Abraham Maslow's conception of self-actualization with Adler's view of optimal functioning.
After Adler's death in 1937, his warm, gentle, diplomatic approach to practice was sustained by a small group of faithful followers like Kurt Adler, Sophia de Vries, Alexander Mueller, and Lydia Sicher. For decades, the mainstream of Adlerian practice in North America and Europe has drifted into simplifications and distortions of Adler's original theory and style of treatment. The time is ripe for a rediscovery of Adler's contribution to depth psychotherapy.
Volume I is divided into four parts. Part One: Overview of Classical Adlerian Theory provides vivid descriptions, explanations, and illustrations of twenty-six core constructs that form the conceptual foundation of Adler's original approach. Part Two: Stages and Tasks of Depth Psychotherapy clarifies the complex, subtle work that needs to be accomplished at each stage of treatment. Part Three: Socratic Questioning in Classical Adlerian Depth Psychotherapy offers an in-depth examination of the primary therapeutic strategy for cognitive change. Five transcribed demonstrations of Socratic questioning, with comprehensive, line-by-line process notes, bring the strategy to life. Part Four: Providing the Missing Experience explores strategies like guided and eidetic imagery, and role-playing to facilitate affective and behavioral change.
The comprehensive text is augmented by online access to seven full-size, full-color graphic charts which illustrate the dynamics and interrelationships of key theoretical constructs. For a preview of Chapter 5: Style of Life, go to www.Adlerian.us/cadp-ch5.htm.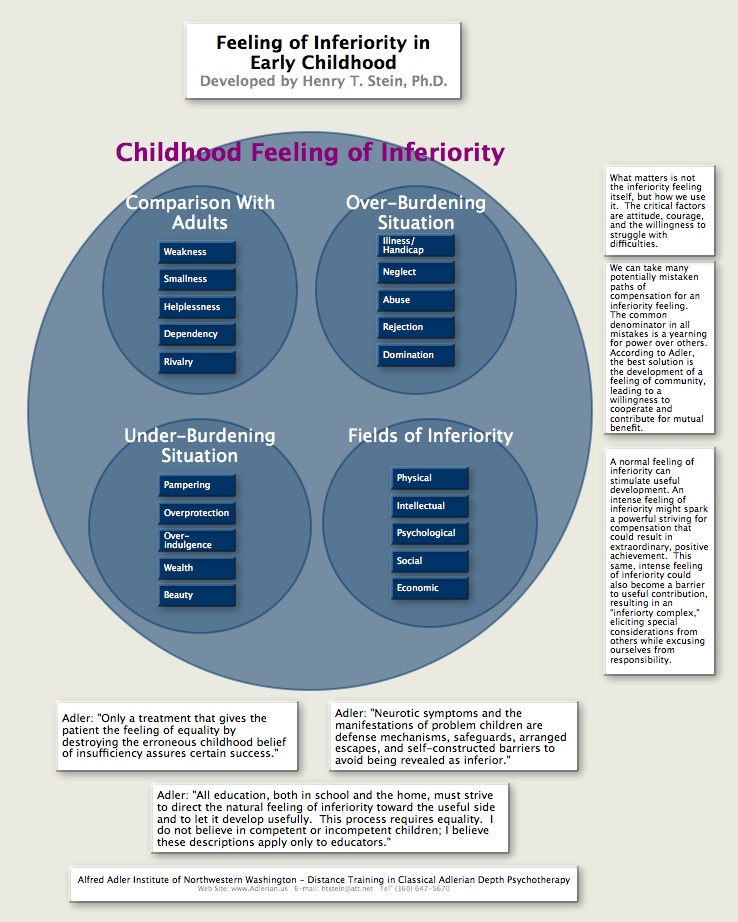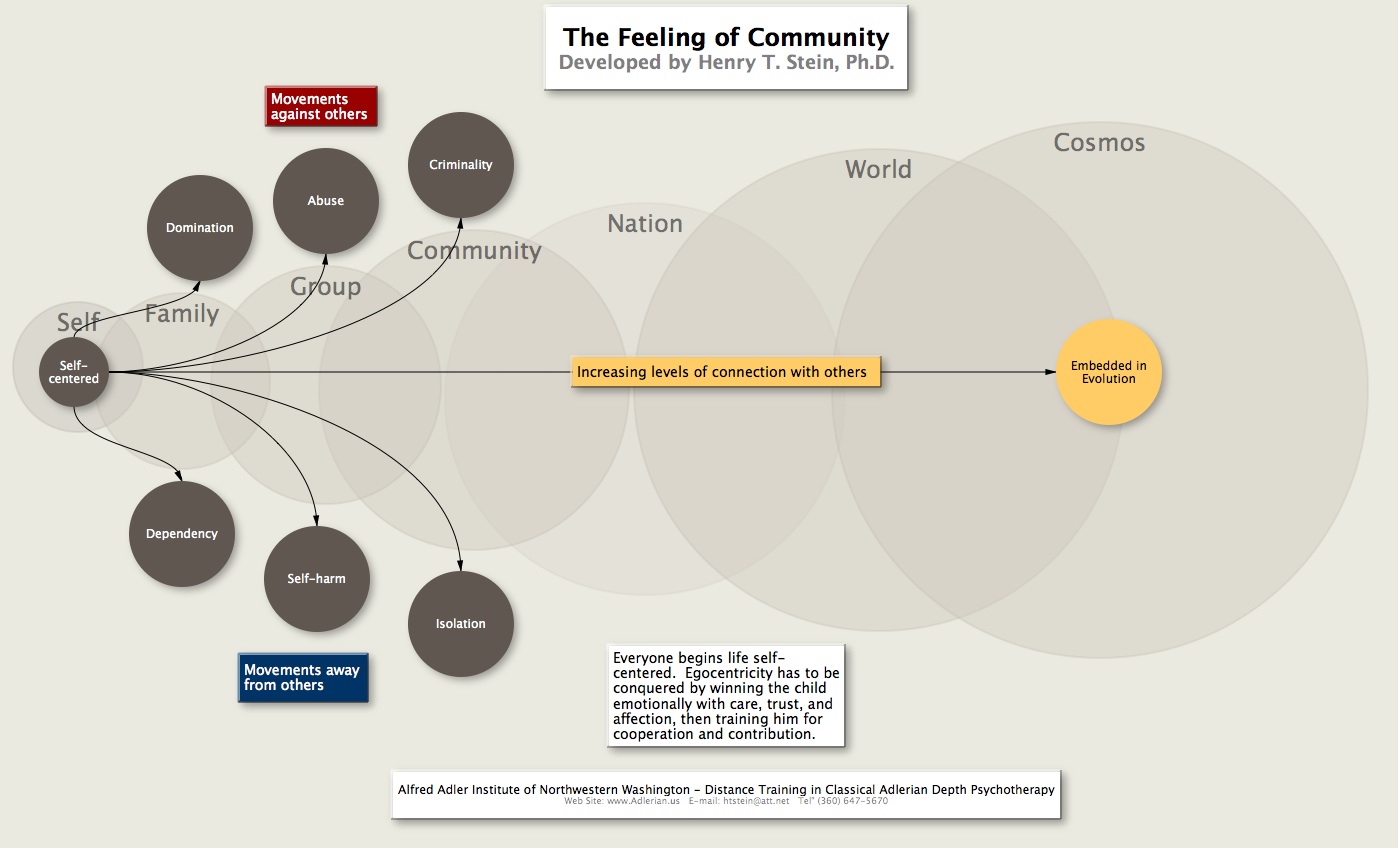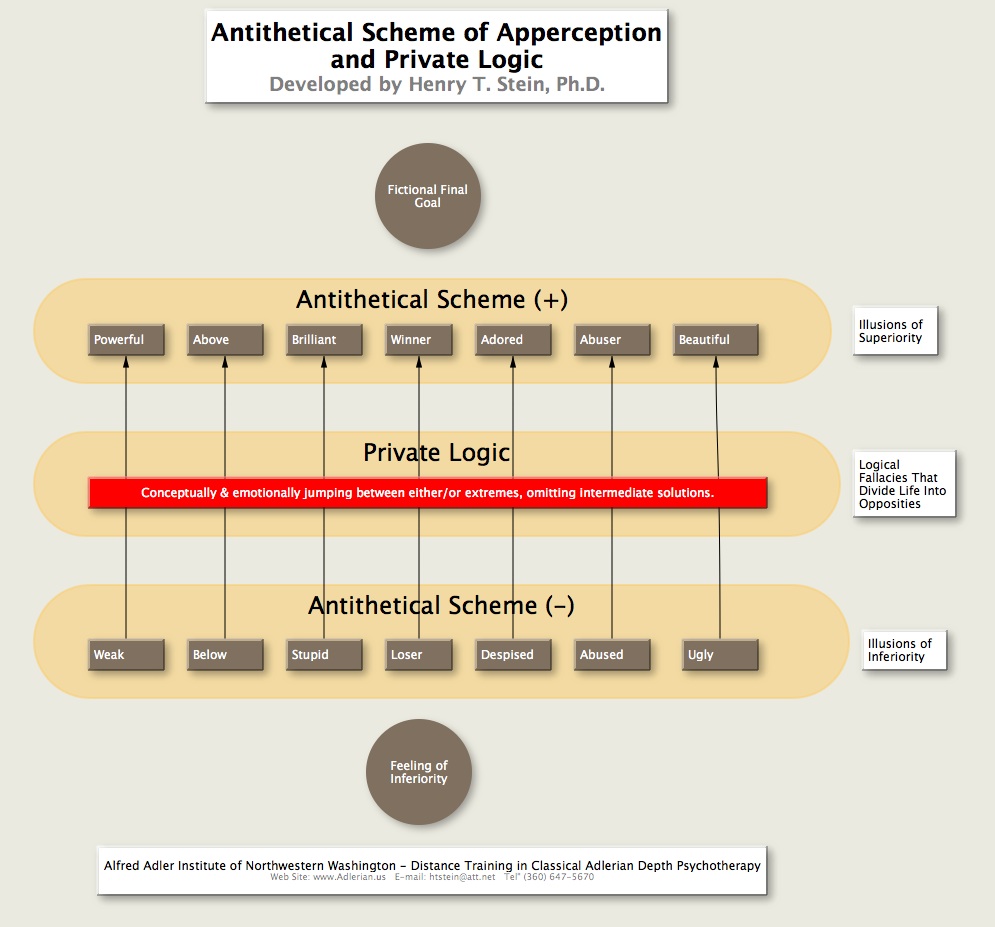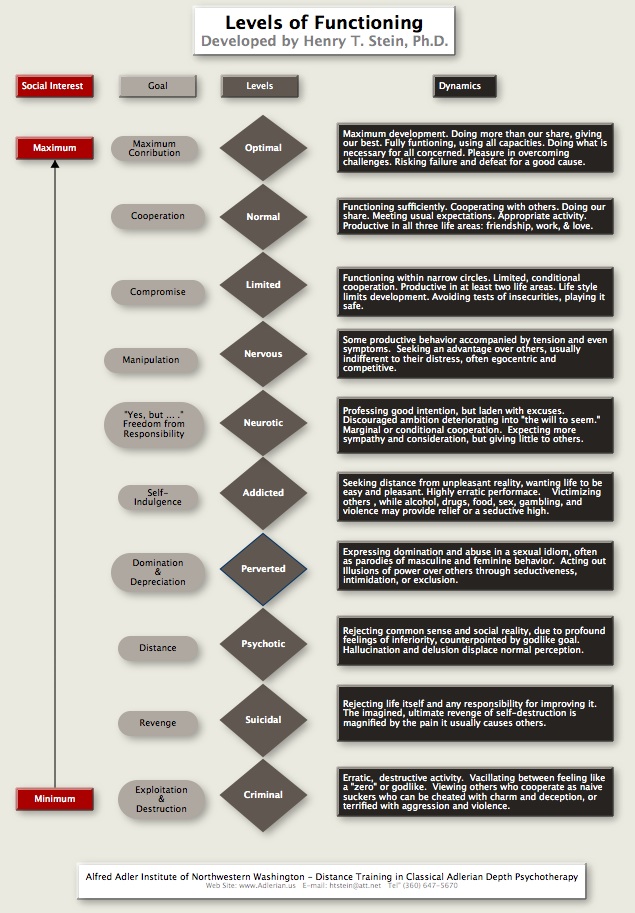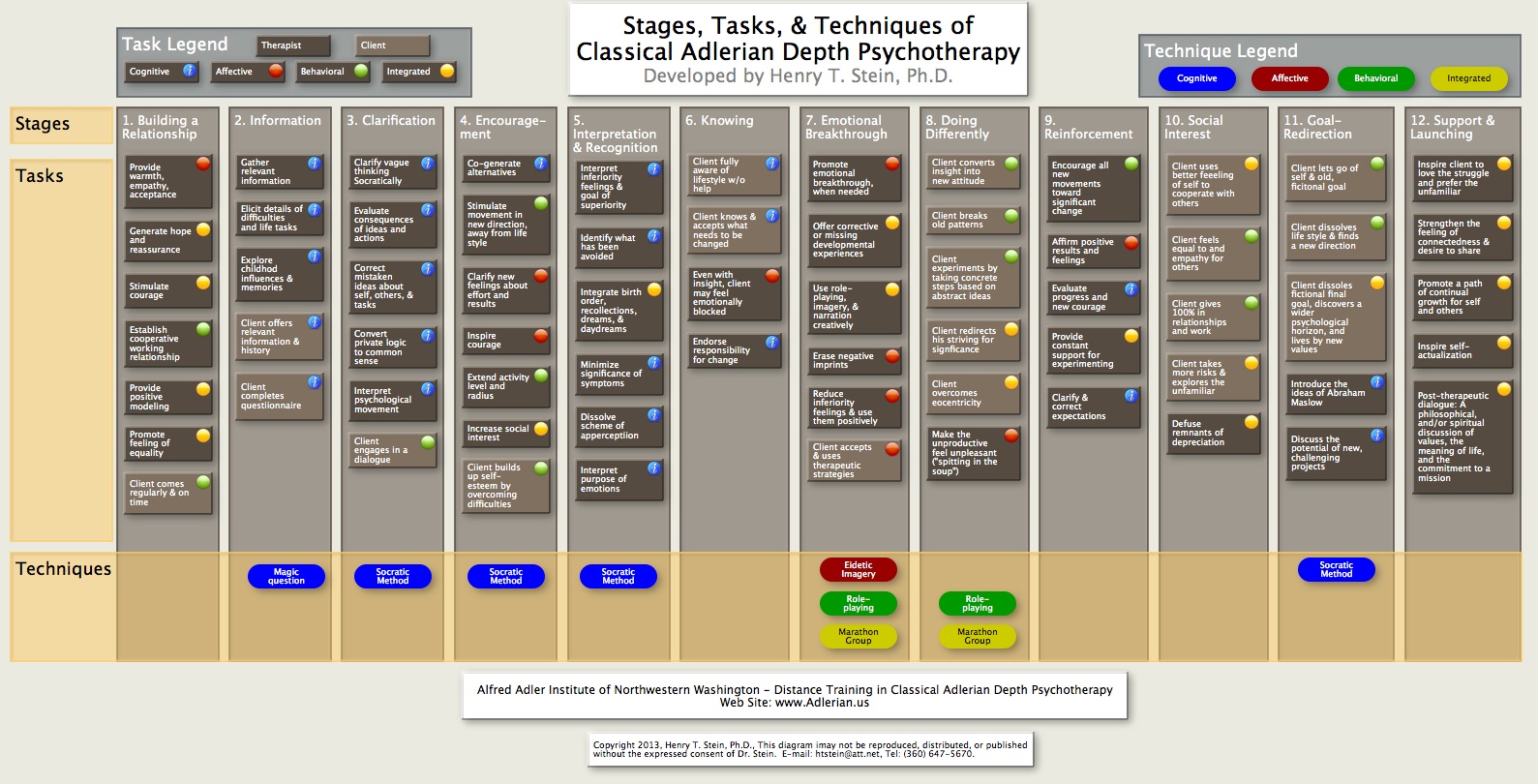 Part One: Overview of Classical Adlerian Theory

Creative Power
Feeling of Inferiority
Striving for Completion
The Feeling of Community
The Style of Life
Fictional Final Goal
Counter-Fiction
Uniqueness and Unity of the Personality
Common Sense and Private Logic
Antithetical Scheme of Apperception
Activity Level and Radius
Courage, Encouragement, & Overcoming Difficulties
Psychopathology
Developmental Theory
Levels of Functioning in Relation to Life Tasks
Expressive Movement
Feelings and Emotions
Safeguarding Through Distance
Childhood Prototype
Conscious and Unconscious
Dreams and Dreaming
Compensation, Overcompensation and Undercompensation
Earliest Recollections
The Neurotic Disposition
Transference and Countertransference
The Concept of Cure

Part Two: Stages and Tasks of Depth Psychotherapy

First Stage: Building a Relationship
Second Stage: Information
Third Stage: Clarification
Fourth Stage: Encouragement
Fifth Stage: Interpretatrion and Recognition
Sixth Stage: Knowing
Seventh Stage: Emotinal Brekathrough
Eighth Stage: Doing Differently
Ninth Stage: Reinforcement
Tenth Stage: Social Interest
Eleventh Stage: Goal-Redirection
Twelfth Stage: Support and Launching
Meta-therapy

Part Three: Socratic Questioning in Classical Adlerian Depth Psychotherapy

Overview
Adler's Therapeutic Technique
Origin of the Socratic Method in Psychotherapy
Parallels and Contrasts in Philiosophy
Socratic Method in Psychotherapy
Socrates and Adler: General Similarities
Socrates and Adler: General Differences
The Socratic Method in Classical Adlerian Depth Psychotherapy
Use of Questioning at Stages of Psychotherapy
Cognitive and Affective Stategies
Connecting Present, Past, and Future
Types of Questions
Examples and Explanations of Socratic Questioning in Classical Adlerian Psychotherapy
Demonstration With a Procrastinating Man
Demonstration With a Depressed Man
Demonstration With a Procrastinating Woman
Demonstration With a Fearful Man
Demonstration With a Man Who Hates to Wortk

Part Four: Providing the Missing Experience

General Considerations
Significant Influence
Buidling Up for a Breakthrough
Evaluating Early Emotinal Deficits
Opportunities for Cortrecting Deficits
Obstacles Created by the Style of Life
Purpose and Timing of an Intervention
Techniques for Intervention
Role-Playing
Guided Memory
Guided imagery
Narration and Reading
Role Reversal
Developmental perspective
Right Person and Situation
Debriefing After an Intervention
Conclusing Remarks

Appendix A: A Psychology for Democracy
Appendix B: Stages, Tasks, & Techniques of CADP (chart)
Appendix C: CADP Distance Training



Use these credit card order links (via PayPal), or print the following order form, and mail it in with your check or money order.